Immigration Department's 'creeping culture of secrecy' alarms Labor senator | World news | theguardian.com
Immigration Department's 'creeping culture of secrecy' alarms Labor senator
Joe Ludwig accuses department of hiding documents and calls on ombudsman to investigate its FoI practices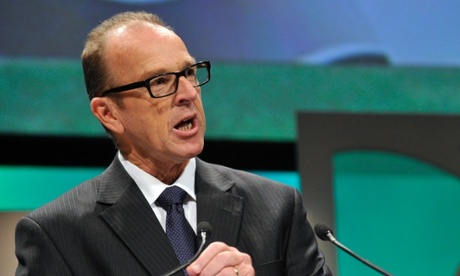 Labor senator Joe Ludwig has called on the commonwealth ombudsman to investigate the Immigration Department's freedom of information practices and has warned of a creeping culture of secrecy and of hiding documents across government.
The Immigration Department refused access to documents about boat arrivals earlier this year. In an unusual decision the department relied on the immigration minister's claim of public interest immunity, which has already come under scrutiny by a Senate committee, to refuse access to documents.
Ludwig referred the matter to the Office of the Australian Information Commissioner (OAIC), but information commissioner John McMillan declined to investigate the matter. The complaint has now been referred to the commonwealth ombudsman, Colin Neave.
The OAIC is to be disbanded as part of the government's budget announcements, with its roles split across different agencies.
Ludwig said the government was "wedded to secrecy" and compared the refusal of the documents to past practice of using conclusive certificates to allow ministers to declare information to be secret.
"They are now trying to use false claims of parliamentary privilege to hide documents and information. This is a return to the dark old days of the Howard government using executive privilege or 'conclusive certificates' to refuse access to information," he said.
"Labor abolished conclusive certificates and reformed Australia's freedom of information laws to open up government to be more accountable and transparent."
The proposal to disband the OAIC, which was designed to be a champion of open government, has drawn heavy criticism from Labor and the Greens.
Under the model proposed in the budget papers, complaints will be handled by the commonwealth ombudsman and FOI appeals will go to the Administrative Appeals Tribunal.