Tony Abbott: no pension cuts before 2016, but family benefits may change
Tony Abbott: no pension cuts before 2016, but family benefits may change
As
Labor attacks the prime minister over pre-election promises, Abbott
tries to reassure aged pensioners, but has left open cuts to other
social security benefits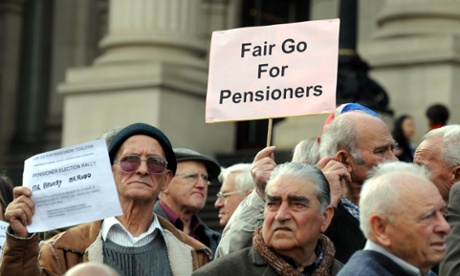 The prime minister is reassuring pensioners they won't suffer any
reductions in payments before the election due in 2016, but is warning
that tougher eligibility rules for pensions are likely after the poll
and that family benefits could be reined in even sooner.
As
Labor ramps up its attack on the government for considering budget cuts
that Tony Abbott categorically ruled out before the 2013 election, the
prime minister used a speech on Monday night to clarify that much of the
budget pain won't be felt for a few years.
The prime minister
sought to explain how his promise that there would be "no changes to the
pension" could fit with his government's clear signals that it is
likely to raise the pension age to 70, and its floating of changes to
the assets test for retirees receiving part pensions and less generous
annual indexation for pension payments.
"To keep our commitments,
there will be no changes to the pension during this term of parliament
but there should be changes to indexation arrangements and eligibility
thresholds in three years' time," Abbott said in an address to the
Sydney Institute.
"I want to assure vulnerable people that the age
pension won't be less tomorrow than it is today and that people turning
65 tomorrow are certainly not going to have to wait five years to
retire."
But he said "there are other social security benefits
where indexation arrangements and eligibility thresholds should be
adjusted now so that our social safety net is more sustainable for the
long term."
"Such benefits won't be less tomorrow than they are today, but the rate of increase will be slower and needs to be slower."
Abbott
said the budget was only one "installment" in the long-term
restructuring needed and would not promise to return to surplus by a
particular date but would "bring us close to surplus and on track to a
strong surplus within a decade".
He flagged education cuts after
the four years of the budget's forward estimates, saying the Coalition
had promised to match Labor's "Gonski" funding for four years but
"explicitly refused to commit to Labor's changes beyond that" as well as
"more price signals" for government services – such as co-payments.
In
2011, when the Gillard government tried to slow the rate of increase in
spending on family payments by freezing the indexation of the income
level at which they were no longer paid, then opposition leader Tony
Abbott went on the attack labeling the move as nothing less than "class war".
"Why
is this government always targeting people who want to get ahead? Why
is the government against the aspirations of people?," he asked at the
time.
And in the lead-up to the 2012 budget
then then treasurer Wayne Swan was arguing that the country could no
longer afford to pay "welfare" to people who didn't really need it,
Abbott again attacked the suggestion.
"What is middle-class
welfare? Is Medicare middle-class welfare? Is the [pharmaceutical
benefit scheme] middle-class welfare? What the government calls
middle-class welfare is actually a fair go for families with kids," he
said.
In his speech he attempted to deal with such arguments being used against his own budget measures.
"Not
for a second would I label families as 'rich' just because they are
earning $100,000 a year … but the best way to help families on $100,000 a
year is long-term tax relief and more business and job opportunities,
not social security hand-outs."
The pension age is already slated
to rise to 67 in 2023 and the government has all but confirmed it will
now eventually rise to 70.
Abbott did not comment on reports the
government is considering a "deficit levy" on high income earners as
part of its budget, but did say everyone would suffer some budget pain
"including high income earners such as members of parliament".
"The budget pain will be temporary but the economic improvement will be permanent," he said.
And
he held out the prospect of personal income tax cuts sometime in the
future if Australians endure some pain now to get the budget back into
the black.
"The changes in this budget will make personal income tax cuts much more likely in four or five years time," Abbott said.
The opposition leader, Bill Shorten, said pension cuts or any increased taxes would be clear broken promises.
''Here's
a couple of ideas for Joe Hockey and Tony Abbott – don't break your
promise ... don't say nine times in a 32-day election period when you're
chasing people's vote that they won't touch pensions and then as soon
as you get elected have twisted priorities and broken promises and
introduce a new deceit tax,'' he said.
The commission of audit
report, which will inform budget spending cuts, will be released on
Thursday. The budget will be brought down on 13 of May.