The job application addiction: white paper is the new red tape | Brendan O'Connor | Comment is free | theguardian.com
The job application addiction: white paper is the new red tape
It
is ludicrous to suggest that a 45 year old, recently retrenched after
20 years in the car industry, is better off working for the dole than
retraining and looking for real work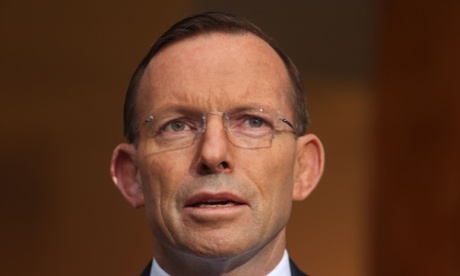 Right now, on a computer screen in a bedroom somewhere in Australia,
a tech-savvy 20-something is developing a new mobile phone app that
will sell for 99 cents a million times over.
The 740,000 people
looking for work in this country will upload their resumes, and the app
will auto-apply for 40 jobs every month, to comply with prime minister Tony Abbott's fanciful demand
and avoid having their Newstart payment suspended. Job seekers will
then get on with searching and applying for the jobs they have the best
chance of getting.
The app might be named "see my CV" or "40 in 30" and the rest of us will ask "why didn't I think of that?"
While
the app will be a runaway success, Abbott's arbitrary application
requirement will fail, deemed as counter-productive as it is cruel. The
burden to business to absorb 40 applications a month for every job
seeker in Australia is proof that white paper is the new red tape when
it comes to looking for work.
Abbott wants each and every one of
the people looking for work in this country to send off 40 job
applications a month, in a poorly disguised crack-down on people he
believes are "rorting the system".
While Abbott attacks people he
thinks are job snobs, spare a thought for the employers bracing for the
avalanche of applications. Almost 30m resumes will land in the in-trays
of big and small businesses every four weeks. HR managers will be
inundated and owner-operators will be crippled with template CVs for
jobs the applicants can't do or are not going to get.
It's such a bad idea, even business groups are alarmed. The Australian Chamber of Commerce and Industry said,
"what we don't want to do is to flood the business community with a
whole range of job applications just for the sake of people fulfilling
their requirements." Small businesses are also concerned. "They will be
inundated,'' says
Peter Strong of the Council of Small Business of Australia. "It's an
embarrassment for everybody and it's going to make people angry."
The
Business Council of Australia said it would be better to allow job
seekers to concentrate their efforts towards applying for the jobs they
have the best chance of acquiring.
For people under 30, it gets
worse. The government wants to cut off support for people under 30 for
six months every year, even when they look for work each day, each week,
each month for those six months. That is, young people looking for jobs
will get zero support from the government for six months at a time but
still have to apply for 40 jobs every month. Such cruel measures will
have dire economic and social consequences for a generation of young
people.
Labor has been a strong supporter of the notion of mutual
obligation since the days of Paul Keating's Working Nation initiative
some 20 years ago. People in receipt of a modest income from the
government should complete activities and look for work.
A
properly structured Work for the Dole scheme can be useful for job
seekers who have little or no work experience, but it's no replacement
for apprenticeships and traineeship places which have been cut by the
government.
It is also ludicrous to suggest that a 45 year old,
recently retrenched after 20 years in the car industry, is better off
working for the dole than retraining and looking for real work.

Job seekers who have the appropriate skills should be spending their
time crafting detailed applications for genuine jobs, not sending off 40
resumes a month. Most jobseekers should be in real training in areas in
demand not spending hours a week in Work for the Dole programs.
The
unemployed don't need lectures from Abbott, they need a government that
is more interested in creating jobs than counting the number of CVs
being sent out. Businesses don't want to drown in job applications, they
need a government equipping the future workforce with the skills to
make it easier to hire people, not harder.
Now all I need is a new idea for a best-selling app.